4 Tips for Changing Your Summer Skin Care Regimen
As Floridians, we love living in the warm and sunny Florida weather, but sometimes that can take a toll on our skin.  Our expert medical aesthetician Megan Minser has some recommendations about how we should change our skin care regimen as we get into these warmer summer months.
1)  Switch to a lighter moisturizer
As the weather warms and becomes more humid your skin may feel "heavier" and have more oil.  This is a good point to switch to lighter products.  For instance, you can move from a moisturizer (heavier texture) to a serum (light texture).  Although both products have hydration in them, moisturizers have emollients for a "creamier" feel, whereas serum is more of a water/gel texture.
2)  Add an exfoliant to your regimen 
Exfoliation can be a physical (polish or scrub) or a chemical (enzymes or acids).  This will help remove the dead skin cells that make the skin look dull and feel weighed down.  It will also improve the texture, brighten the skin and clear out pores. For example, adding TriBright Serum to your daily am/pm regimen can help exfoliate along with providing a high potency Vitamin C+E Ferulic acid which helps in the anti-aging process (i.e., exfoliation)
3) Lower Retinol Use
Depending on how much time you spend in the sun during the summer, you may want to move from RetinA or Retinol products to acids that are less reactive to the sun and heat.  If you are on our Beauty Theory-Custom Brightening Creme move to the Beauty Theory TriBright Pads.  Both of these products are custom blended in our office for freshness and focus on brightening the skin (i.e., Melasma, pigmentation, and sun damage) along with anti-aging.
4) Sunscreen! 
Our Beauty Theory Sunscreen is a broad-spectrum physical SPF 40 with a universal tint.  With a "physical" sunscreen you are chemical-free.  This sunscreen is a 14% Zinc Oxide enhanced with Vitamin C+E and Ferulic Ester (this provides added protection against free radicals and sun damage).  The tint will provide a light coverage with a silky texture.  
Our Recommended Summer Skin Care Products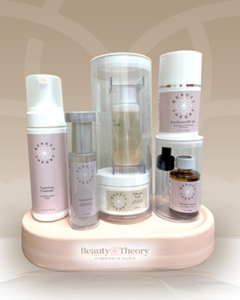 Every patient can benefit from a good cleanser, hydration, and brightening products. Our staff's top picks are:
*Beauty Theory Foaming Cleanser
*HydraSerum
*TriBright Pads
*Sun Shield SPF 40
View Megan's video here as she explains these tips for changing your Summer skincare routine.