Beauty Theory
Broadband Light Laser
Broadband Light Laser
Whether you're dealing with acne scarring or signs of aging, BBL Therapy can help you kick-start your skin's natural repairing process for a more even skin tone and radiant skin. Beauty Theory's team of professionals are expertly trained to provide clients with this state-of-the-art, highly effective treatment that will leave you feeling great in your skin—even without makeup.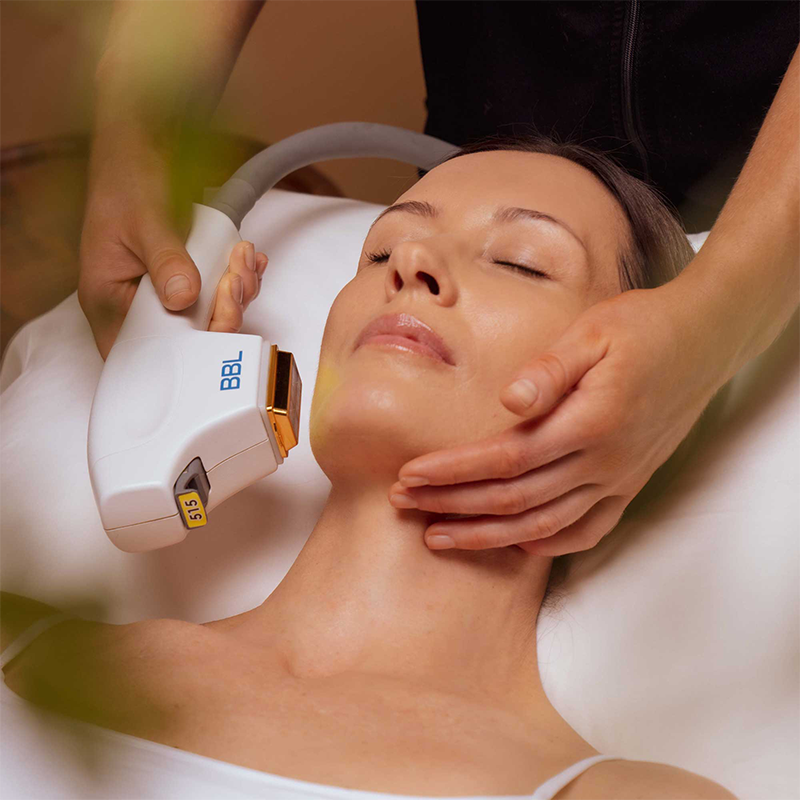 mJoule
We use Sciton's patented mJoule BBL (Broadband Light) laser to dramatically improve the appearance of skin anywhere on the face and body. The mJoule offers safe, efficient, and powerful treatment for all skin types.
What is Broadband Light Therapy?
Broadband Light (BBL) Therapy, sometimes called a photofacial, is a gentle treatment that uses broadband light to address a number of common skin concerns, including:
Rosacea
Spider veins
Acne
Sun damage
Fine lines
Wrinkles
Hyperpigmentation
Uneven skin tone
When exposed to a broad spectrum of wavelengths, your skin will begin to produce collagen and repair itself, resulting in a brighter, more even complexion.
What to Expect From Your BBL Treatment
At your consultation, one of our providers will examine your skin and discuss your needs to come up with a treatment plan that's right for you. 
At your appointment, we'll first apply a gel topically to your skin to help the laser glide smoothly. You'll wear a pair of goggles to protect your eyes from the strong lights of our mJOULE. Then, we'll run the device over the treatment area. You will feel some warmth and some mild discomfort around sensitive areas such as the upper lip, however, most patients do not find BBL therapy to be painful. 
Depending on the size of the treatment area, it may take a minimum of half an hour. Fortunately, BBL therapy is a non-invasive treatment and, while you may experience some redness and swelling, you won't need any downtime afterwards. However, you should be mindful of sun exposure and ensure your skin is protected with high-SPF sunscreen.
Results 
You will begin to see results within about 72 hours of your appointment. Dark spots become darker and redness becomes more red. After 14 days, your skin tone will be noticeably brighter and more even. Depending on the severity of skin damage, you may need more than one treatment for optimal results. We recommend at least 3 corrective treatments and maintenance every 4 months.
Is BBL Therapy Right for Me?
If you struggle with an uneven skin tone—whether due to acne, hyperpigmentation, aging, or textural irregularities—you might be a good candidate for mJoule BBL Therapy with Beauty Theory. Our team of experts is here to answer any questions you may have about BBL therapy.
Experience Our
Beauty Theory