DERMAL FILLERS
Are you considering dermal fillers to help you subtly enhance your appearance? Fillers are a quick and effective way to help you combat signs of aging and sculpt your facial features. Here are a few frequently-asked-questions to help you prepare for your consultation.  
How Do Fillers Work?
Fillers contain ingredients which our bodies naturally produce, like hyaluronic acid and collagen. Dermal injections increase the concentration of these compounds in target areas, enhancing the appearance of lost volume while reducing the number and severity of wrinkles. The gel-like substance is injected carefully just beneath the skin, plumping the skin and restoring your natural glow.
What Areas of the Face Can I Get Fillers?
Dermal fillers work well in areas of the face where moderate to severe wrinkles and folds occur. Fillers are also a great way to improve facial volume, contour, and definition. These may include:
Crow's feet
Lips
Tear troughs
Marionettes
Forehead
Nasolabial folds
Temples
Neck
Ear Lobes
Chin
Cheeks
Hands
What to Expect at Your Appointment
At your appointment, your aesthetic nurse practitioner will discuss the procedure with you in detail and answer any questions you may have. They'll thoroughly cleanse the area to be injected and make small marks to serve as a guide during the procedure. The injection itself is slightly painful, but only for a short moment. 
The results will be visible immediately, and you may opt for additional filler if desired.  Following your appointment, you should avoid intense physical activity for a day or two to help minimize bruising and swelling.
Dermal Filler Brands
At Beauty Theory, we offer a variety of dermal filler brands. Each offers its own array of benefits and use cases. Our medical aesthetician will help you choose an injectable that's right for your treatment.
Allergan
Voluma
Vollure
Volbella
Volux
Skinvive
Ultra
Galderma
Lyft
Defyne
Refyne
Contour
Kysse
Restylane
FREQUENTLY ASKED QUESTIONS
When will I see results?
Although each individual is different, most see a difference immediately. Once filler begins to react with your body's dermal tissue, you will see optimal results. For most, full results can be expected within two weeks. 
Are dermal fillers safe?
When injected by a highly trained professional, complications are uncommon. That is why it's critical to choose a providor with experience, like our staff here at Beauty Theory. Before receiving treatment, your provider should explain any risks of your in-office procedure. 
What are the side effects of dermal fillers?
The most common side effects include temporary reactions at the treatment site such as:
Tenderness
Swelling
Firmness
Lumps or bumps
Bruising
Pain
Redness
Discoloration
Itching
Side effects tend to be moderate and generally last up to 2 weeks weeks. Bruising can last between 7 and 14 days, while swelling tends to be worse in the first week. It may take 4-6 weeks for complete integration of the filler.
To minimize the risk of side effects, avoid taking NSAIDS, fish oil, supplements, and alcohol in the days preceding your appointment.
As with all skin injection procedures, there is a risk of infection. Dermal fillers are not recommended within two weeks of vaccinations or dental/medical/surgical procedures.
How long does filler last?
On average, filler lasts between 6 months to a year. This can depend on the area injected and how quickly your body metabolizes it. The longevity of fillers depends on the person, location, and chosen product. It may take multiple session to achieve your goals. The goal is always a natural subtle improvement.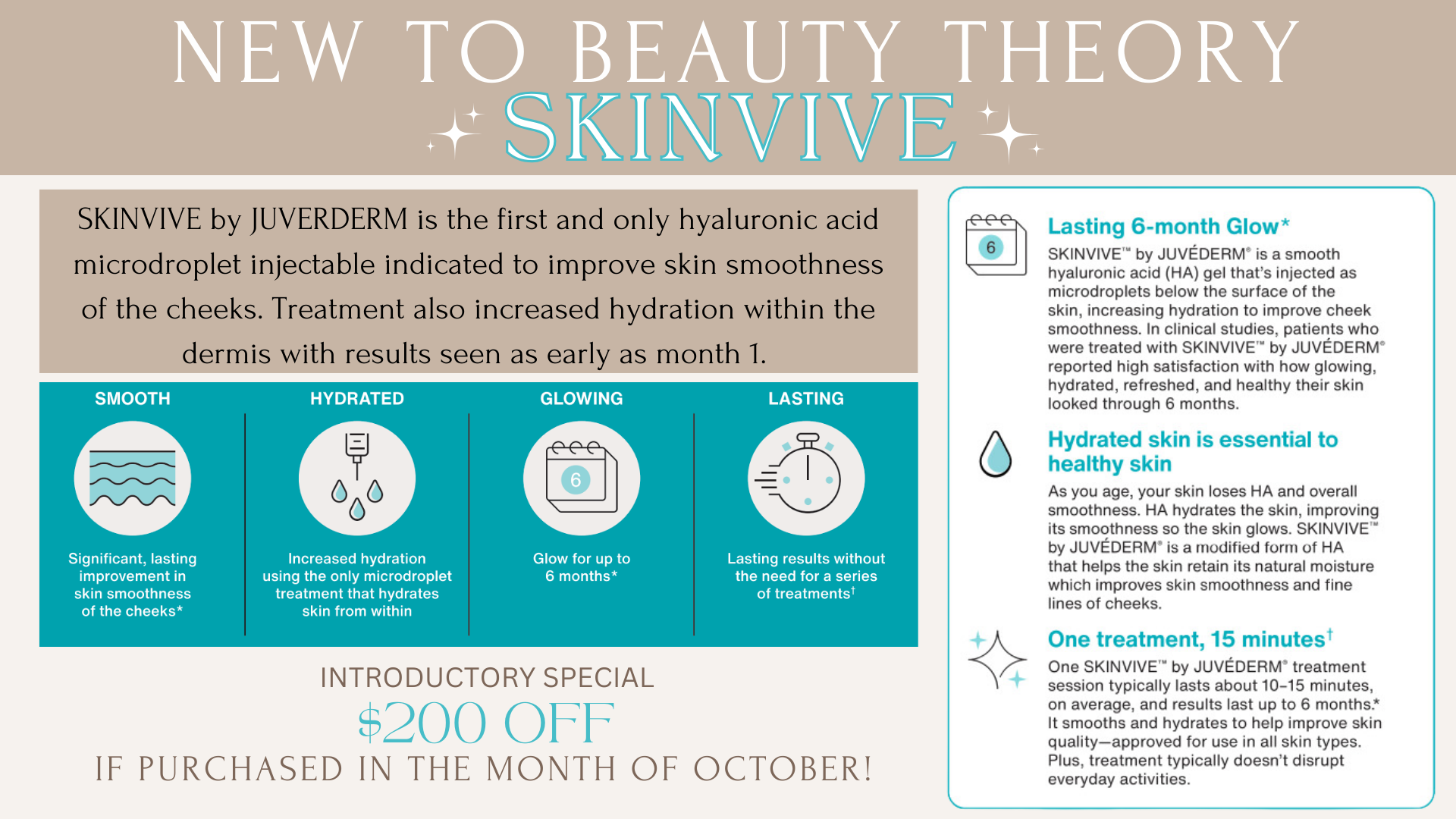 Experience Our
Beauty Theory