SkinMedica Diamond Glow
While traditional wet facial treatments rely on chemical exfoliation to treat skin at the surface level, DiamondGlow® uses a patented wand to deliver a next-level resurfacing treatment.
The DiamondGlow® wand is a gentle dermabrasion device. Diamond Glow's recessed diamond-tip wand deeply cleans, exfoliates, and rejuvenates the skin while infusing it with SkinMedica® Pro-Infusion Serums. After a single treatment, your skin will be noticeably brighter, clearer, and more even.
In only one step, the DiamondGlow® wand exfoliates, extracts debris from the pores, and infuses skin with deeply nourishing serums. Immediately after treatment, you'll notice a significant difference in your skin's tone and texture. As your skin rejuvenates and the serums work their magic, you'll continue to see noticeable improvements.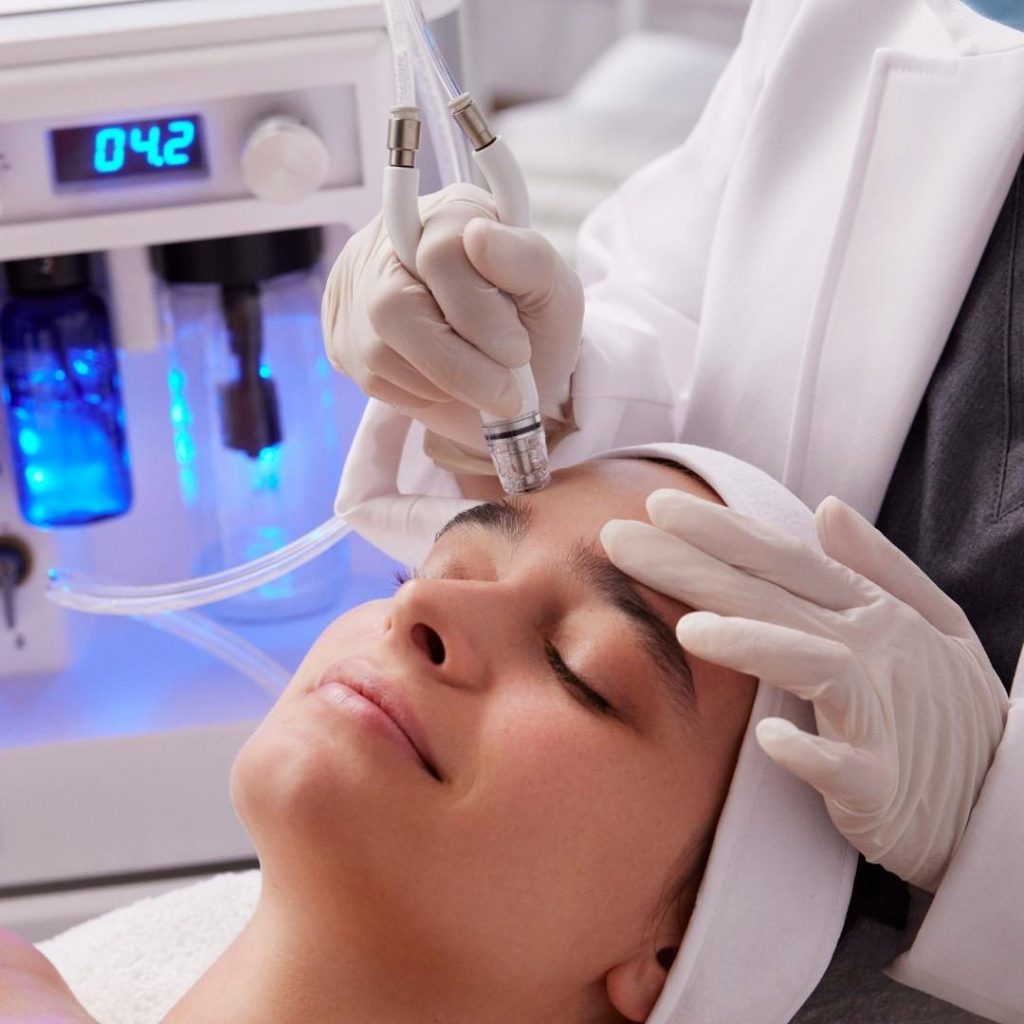 DiamondGlow® Facial
Unlike other treatments, DiamondGlow® is customized for your skin. We use a precision diamond tip specifically chosen to address your skin's needs plus a combination of targeted SkinMedica® Pro-Infusion Serums. This 60-minute, customized facial will completely refresh and rejuvenate your skin. You'll leave our office with a curated at-home SkinMedica® skincare regimen to keep your glow going.
You can also extend the DiamondGlow® Facial to your neck and chest, along with a dermaplaning treatment for added exfoliation. If you're concerned about revealing your decolletage due to the condition of your skin, consider adding this feature to help rejuvenate the sensitive skin in this area.
The DLUX DiamondGlow® Facial
The DLUX DiamondGlow® Facial is our customized and ultimate luxurious experience that is a combination of our DiamondGlow® Facial, Signature Ice Glow Facial, and Hydrating Facial. Additionally, the DLUX DiamondGlow® treatment will include dermaplaning and the SkinMedica Illuminize peel. Designed for maximum skin rejuvenation.
We'll begin with a deep steam cleanse and a light exfoliation.  We'll perform any necessary extractions and/or dermaplaning as requested. We will then use the DiamondGlow® machine which uses a diamond-tip wand that deeply cleans, exfoliates, and rejuvenates the skin while infusing it with SkinMedica® Pro-Infusion Serums. We'll apply a custom mask with a gentle massage to improve circulation, reduce puffiness, and diminish the appearance of fine lines and wrinkles. Then a gentle ice globe massage is provided to improve circulation, reduce puffiness, and diminish the appearance of fine lines and wrinkles.  A chilled crystal eye mask is gently placed for a soothing and relaxing experience. Lastly, we will apply the SkinMedica Illuminize Peel to complete exfoliation that will leave your skin glowing. Your experience is further enhanced with a scalp, neck, and shoulder massage. We recommend monthly treatments as part of your regular skincare regimen.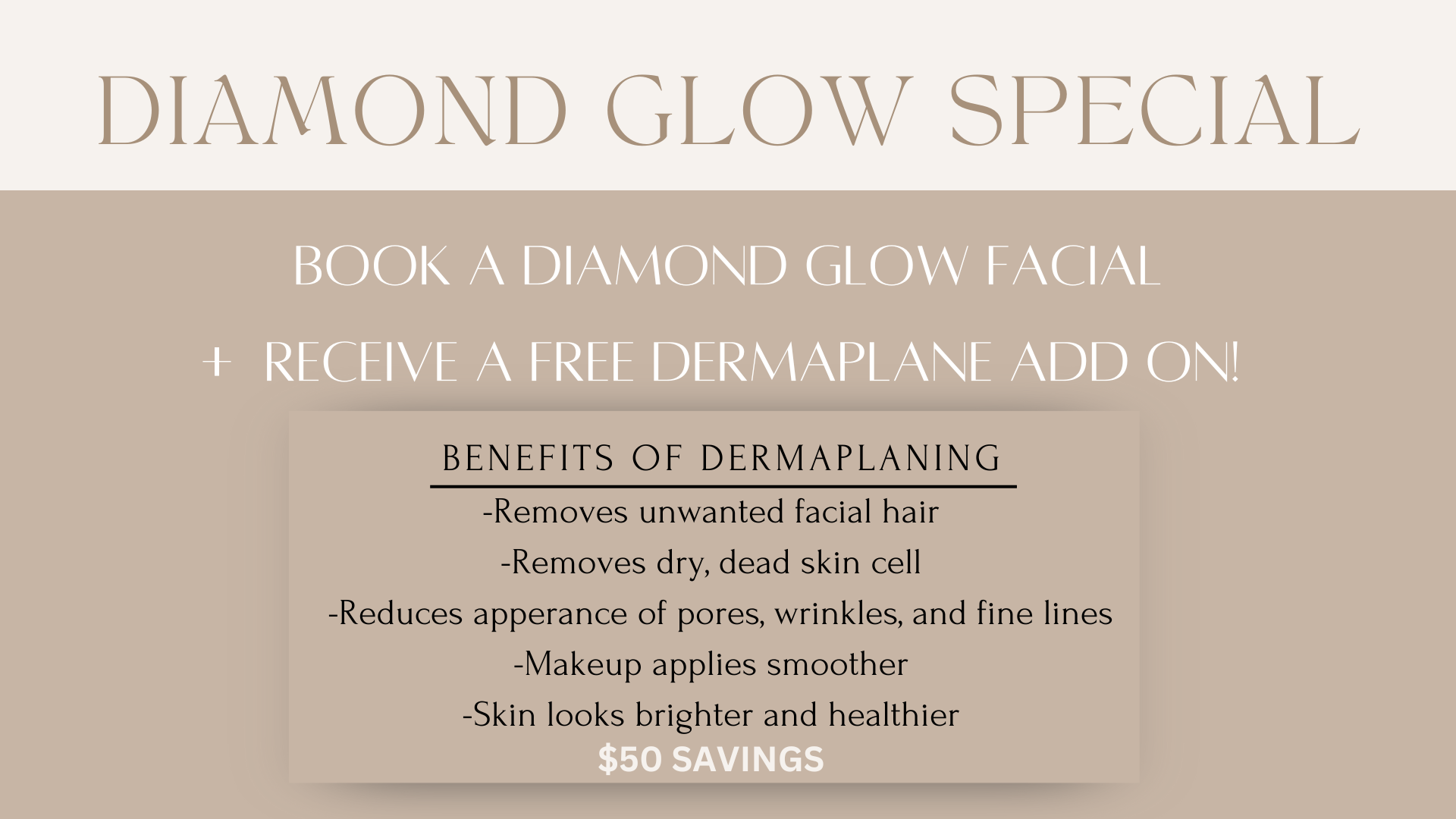 SKINMEDICA® SERUMS— AS UNIQUE AS YOUR SKIN.

SkinMedica®
TNS® Advanced+
Targets coarse wrinkles, fine lines and sagging skin, and enhances tone and texture.

SkinMedica®HA5® Hyaluronic Acid
Features 5 forms of HAs to instantly hydrate, visibly plump, and reduce the appearance of lines and wrinkles.

SkinMedica® Even & Correct Advanced Brightening
Features exclusive LTN Complex™ plus exfoliating glycolic and phytic acids to help correct the appearance of hyperpigmentation and dark spots.

SkinMedica®
Vitamin C
A deep dose of antioxidants to rejuvenate and protect.

SkinMedica®
Pore Clarifying
Powerfully addresses imperfections, promoting clearer skin. Ideal for acne-prone skin.
Benefits of Diamond Glow
Diamond Glow Facials address a number of common skin concerns, and we'll tailor your Diamond Glow facial to your specific needs. Here are a few of the benefits of Diamond Glow Facials:
Diminished fine lines and wrinkles
Improved texture
Alleviation of dryness
Brighter, more radiant skin tone
Firmer, plumper skin
Fewer blemishes and breakouts
Neck and Chest ($100)
Nourish your skin by extending our DiamondGlow® Facial or The DLUX DiamondGlow® Facial to your neck and chest.
Dermaplaning ($50)
Uncover fresh, smooth skin by manual exfoliation. Dermaplaning is done with an instrument that shaves away dead skin cells and vellus hairs. 
Extractions (Optional/Included)
Remove clogged pores, blackheads and whiteheads from the skin with gentle pressure. Included in Acne Clarifying Facial.
High Frequency ($50)
Treat acne, enlarged pores, fine lines, and wrinkles with a high frequency, an electrical current treatment. (Included in the Acne Clarifying Facial.)
Galvanic Massage ($50)
A Galvanic Massage is an electrical service which applies therapeutic substances into the skin to create specific effects upon the surface and the underlying tissues. This service is used to tone muscles, promote blood circulation, increase cell metabolism and activate enzymes.
SkinMedica Illuminize Peel ($75)
Get vibrant, radiant-looking skin with minimal downtime. The SkinMedica Illuminize Peel  is appropriate for mild skin imperfections.
ZO Enzymatic Peel (Included if necessary)
The ZO Enzymatic Peel is a combination of enzymes & acids to exfoliate your skin, helping to improve texture, tone, and overall luminosity. A great addition to your next treatment. (Included if necessary)
ZO Skin Brightening Mask (Included)
The Zo brightening mask is packed with antioxidants and other good-for-you ingredients, they nourish and hydrate skin, all while helping reduce the appearance of redness, inflammation, and dark spots. 
SkinMedica Instant Bright Eye Mask ($10)
Cooling gel patches that soothe and hydrate the under-eye area.  The SkinMedica Instant Bright Eye Masks use a unique hyrogel technology to reduce the appearance of puffiness to help eyes look youthful and rested.
ZO Stimulator Peel (Included if necessary)
The ZO Stimulator Peel is the perfect "lunchtime peel" with no downtime. The Stimulator Peel is a highly effective treatment for the many signs of aging, sun damage & large pores.
Experience Our
Beauty Theory