May's Product of the Month: TNS ADVANCED + SERUM
20% OFF ALL MONTH
This next-generation, skin rejuvenating formula improves the appearance of coarse wrinkles, fine lines, skin tone, and texture. It's the only growth factor product proven to address sagging skin.  Visible result in just 2 weeks. Results continue to improve through 24 weeks of use.
Colorless, fragrance-free, lightweight, matte finish.
Appropriate for all skin types.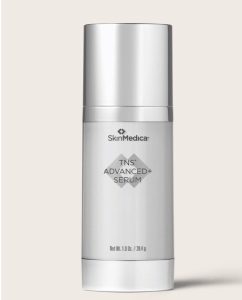 SkinMedica TNS ADVANCED SERUM
KEY BENEFITS
*Smooths visible coarse wrinkles and fine lines
*Clinically proven to address sagging skin
*Results starting in just 2 weeks
*Progressive results measured over 24 weeks
Give us a call or email to reserve yours now!